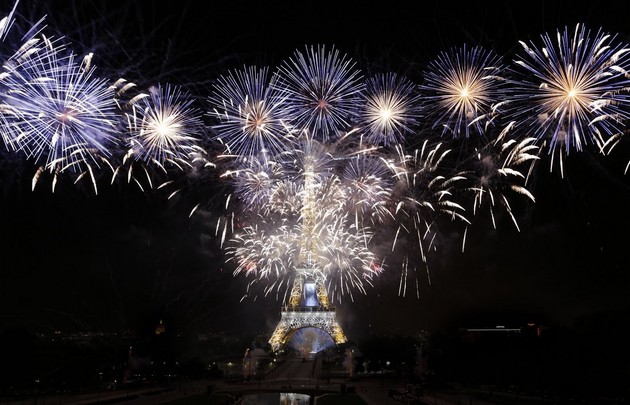 Weekend of July 14 in Paris by Welcome Hotel
The sun has apparently chosen its holiday destination … Indeed, the sun has dropped its suitcases and rays on our beautiful city. No doubt, summer is there! And the weekend of July 14 marks the start of the annual holidays! The national day is celebrated throughout France but if you decide to spend the weekend of July 14 in Paris, you will not regret it! Welcome Hotel gives you informations about this special day 😉
First of all, starting at 9:30 am, the commemoration ceremonies of the 1st World War and the descent of the Champs Elysées will begin with President Emmanuel Macron. A military parade continues the morning with different corps of the army and police walking, riding horses or motorized down the most beautiful avenue of the world before greeting the President on the Place de la Concorde. The impressive opening and closing air parades are particularly appreciated by spectators (and Welcome Hotel). This year, the guests of honor are Japan and Singapore.
In the evening, the appointment is given on the Champs de Mars to attend the great concert which starts at 9:00 pm. On the esplanade, everyone takes place in front of the National Orchester of France, the Choir and Master of Radio France and many soloists. Classical music on a background of Parisian monuments, what a pleasure!
Then, at 11:00 pm, the much expected event of the day: the amazing Fireworks from the Champs de Mars. On the theme of Love, sounds and lights around the Eiffel Tower make all the adults become young. For 35 minutes, a magical show brings together thousands of people. Whether from the Trocadero Gardens, the Champs de Mars, one of Paris bridges or some high streets, time stops for the contemplators of the Iron Lady.
Finally, because the party goes on, go to one of the firemen balls! In the 6th arrondissement, close to the Welcome Hotel, Place Saint-Sulpice, the Caserne Colombier opens its doors on July 13th and 14th from 9:00 pm to 4:00 am. The tone is given, summer will be festive or will not be!
Remember to book your room at Welcome Hotel for your the weekend of July 14 in Paris, or for any other weekend of course 🙂