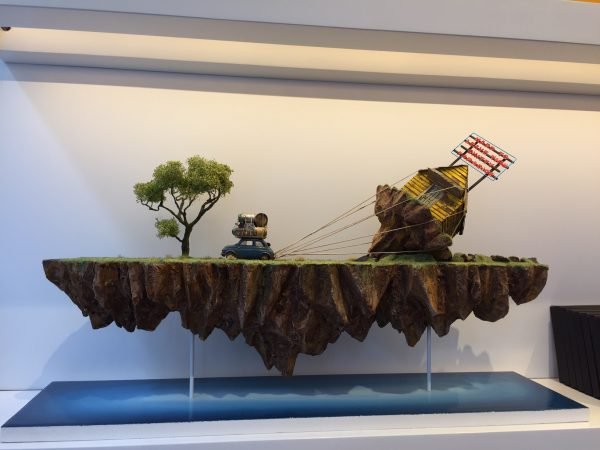 Contemporary Art in Saint-Germain-des-Prés
During 10 days, the Parcours Saint-Germain has sowed in our dear district small pieces of contemporary art.
You just needed to take a map on the Place Saint-Germain-des-Prés and then go to the addresses mentioned. Works, artists, but also places were to be discovered. And it is here that this initiative is beautiful: inviting contemporary art in a historical environment like Saint-Germain.
As every year, everything has been cleverly organized and the result was a breathtaking creativity! We also noticed the very successful integration of the works in the places invested. Most visits were made naturally, without thinking that photography, sculpture or painting created a disharmony with its host.
If you missed the 2017 edition of the Parcours Saint-Germain, we can share a few pictures taken this weekend around the Welcome Hotel.
We started with the boutique Jérôme Dreyfuss, rue Jacob, with the work of Ladislas Combeuil, which combines wood and linen to give birth to large geometric shapes.
Hotel des Marronniers has particularly attracted us with the sculptures of Marine de Soos. Two small characters at the entrance of the hotel and a young flutist feeling well in the garden.
After the hotels La Villa and Bel Ami, we pushed the doors of Le Chocolat Alain Ducasse, rue Saint-Benoit. Marie Guerrier, a specialist in metal, has put chocolate from the shop in her works. And what a fine result!
The famous café Les Deux Magots welcomed Dean Monogenis and the paintings in which he allowed himself some unusual associations.
In the Sonya Rykiel's shop, on the boulevard Saint-Germain, the artist Maggie Cardelus revealed her personal universe, her privacy printed on fabrics.
American Vintage, rue Saint-Sulpice, is certainly the one that surprised us most with Charlotte Dualé and its soft forms.
Finally, our favorite is La Fratrie, at Pierre Marcolini, rue de Seine. The sculptures made with four hands (two brothers) plunged us into a universe fantastic and magical, and enamored of lightness. 3 works were exhibited in the shop.
If you want to know more about the works of the Parcours Saint-Germain, go to the official website of the event.